by Heather Rossiter, published 14-15/2/2015, The Australian
Dear Diary,
So here I am tucked up in Iceland with my minders, a volunteer rural firefighter to cover the volcanos and a surf lifesaver to deal with petulant hot springs. Can't wait to explore Reykjavik tomorrow. The landscape is truly weird.
Our hotel sat on a hill above Reykjavik's town centre. Most of R does; it's a very hilly town. Lifesaver was guide. Charmed by bright-coloured houses and tumbling rose gardens it was some time before I became uneasy. We were beside a lake, not a harbour, and the substantial city buildings seemed to be getting smaller. Not a word: Lifesaver is leader today.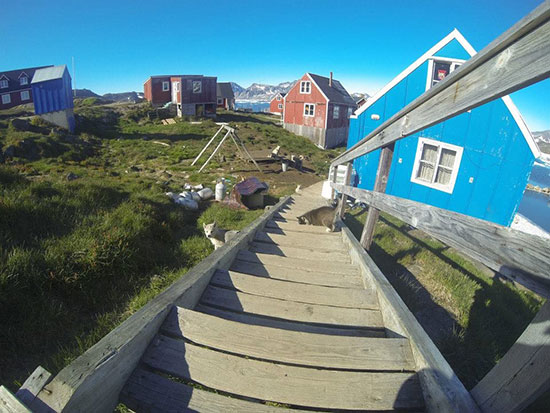 On the far side of the lake we came on an elegant church. Lifesaver disappeared, then reappeared triumphant. From the battlemented rooftop, Reykjavik was laid out below.
At the Saga Museum, in metal-masks and chain mail, the minders clashed swords. At Volcano House documentaries of Iceland's devastating earthquakes prepped us for the next day's landscape. The wild exuberance of Icelandic pop-artist, Erro, captured us at Reykjavik Art Museum. We checked out the strangely beautiful theatre complex, Harpa, before our hero, map in hand, led off up the hill. Oh my god!! Any part of Reykjavik we had not covered in the morning we did in the afternoon. I staggered into the hotel, saying to the grandsons, see you at dinner.
Firefighter was waiting in the lobby. While I napped he had climbed the cathedral's bell tower. 'No fires, great view.' Not only. Busking in the forecourt, he had done well. What instrument? 'Brought my mandolin.' So that's why his huge backpack checked in at only 13kg. But where is Lifesaver? A sweating body lurches through the front door. His 5km run has taken in the thermal pools.
Firefighter is already at breakfast when I go down. No sign of Lifesaver. Ten minutes before we are to be picked up for a Golden Circle tour he stumbles in covered in sweat, his calves seized up. The thermal pools aren't filled until mid-morning, so he swam in the sea. Ouch!

Waterfalls, geothermal hothouses, drenching geysers all pale against Thingvellir National Park where separating tectonic plates tear the earth's surface apart. We look down deep, mysterious fissures into a twisting black abyss so strange one could believe almost anything supernatural dwelt there. This hyper-rational scientist, me, is quite spooked.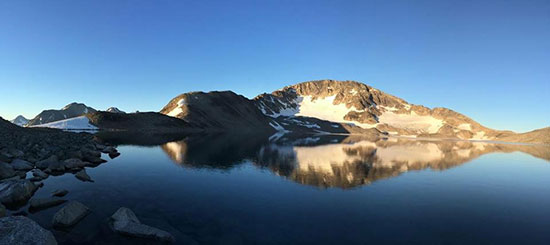 Back in Reykjavik Firefighter's uni results await. We go out to Sjavargilled to celebrate. Firefighter orders the triumvirate of minke whale, puffin and shag (European cormorant). He is not convinced by the whale. Lifesaver chooses steak and langoustines, while I settle for langoustine, crispy pork and battered onion rings. If it weren't so expensive we'd eat here every night. Afterwards the boys are too tired to make it to the downtown bars. Or was it the lethal cocktails they downed?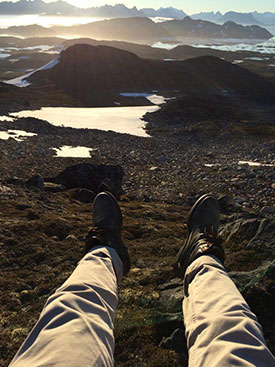 Dear Diary
Back in Reykjavik after a 3-day jolly in Greenland. I do love the dramatic Arctic landscape. We flew into Kulusuk, then in a bright red helicopter to Tasiliq. We walked the Valley of the Flowers, played with icebergs in Sermilik fjord. Lifesaver is sunburnt. Both minders now at the pub watching soccer final.
Played with icebergs again yesterday, not the brilliant white of Greenland but rather grubby things dirtied by volcanic ash. Firefighter lunched on an Icelandic specialty, half a sheep's head. 'Brains and cheek delicious, but I couldn't do the eye'.
Swam in the Blue Lagoon hot springs today. I have booked the horribly expensive Sjavargilled for a farewell dinner.
Dear Diary,
I heard them leave in the bright light of 4.30am. I felt bereft.
© Heather Rossiter 2015
Photographs © Hector Titterton 2015