This is an edited version of a paper presented at Antarctic Visions: Cultural Perspectives on the Southern Continent, University of Tasmania, Hobart 21–23 June 2010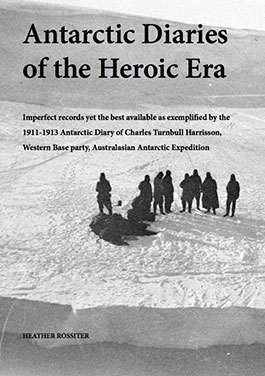 The centenary of the departure of the Australasian Antarctic Expedition (AAE), celebrated in Hobart on 2 December 2011, ignited interest in the documenting of 'Heroic Era' expeditions and of the AAE 1911-1914 in particular. Simultaneously, the publication of artist and biologist Harrisson's diary as Mawson's Forgotten Men The 1911-1913 Antarctic Diary of Charles Turnbull Harrisson revived the almost vanished memory of the Western Base party of the AAE, an heroic group of eight whose endeavours bestowed reality on 2400 km of previously uncharted Antarctic coastline and legitimated the mythical Antarctic hinterland from 88º to 101º E Longitude.
This paper argues that of the several forms of recording and reporting the experience and achievement of 'Heroic Era' Antarctic expeditions: diaries, scientific records, cinematographic material, still photographs and artworks, the diaries are the most authoritative. Extracts from Harrisson's and other diaries exemplify the immediacy and continuity of such records, qualities that are not consistently present in the other forms of recording. On these criteria diaries emerge as the most truthful, dependable and encompassing record of the Heroic Era polar experience.
In particular, the value of the diaries of the Western Base party is demonstrated. By relating the men's experience during a calendar year on the floating Shackleton Glacier they substantiated a considerable and in parts dreadful section of Antarctica. Because of his literary skill, Charles Turnbull Harrisson's diary is of particular importance.
Antarctic Diaries of the Heroic Era eBook is available on




All material is Copyright © 2014 Heather Rossiter except where noted. Any re-use requires permission from the author.