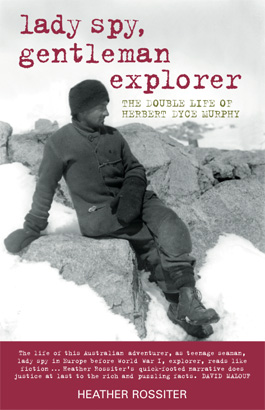 Herbert Dyce Murphy inspired Patrick White's The Twyborn Affair; he appears as a woman in one of E. Phillips Fox's best-known paintings; he prevented Douglas Mawson's Antarctic expedition from imploding.
Lady Spy, Gentleman Explorer tells the story of one man's fascinating double life–a gentleman adventurer who also dressed in drag to spy for British Military Intelligence in pre-World War I Europe.
In 1911 Murphy sailed to the Antarctic with the Mawson expedition for a gruelling exploration of the frozen continent, a trip of terrible hardship which claimed lives-probably unnecessarily-as this controversial view of Mawson demonstrates.
Brilliantly researched and beautifully written, Heather Rossiter's Lady Spy, Gentleman Explorer gives Murphy's unforgettable story its due at last.
Using diaries held by the Mitchell Library [Rossiter] weaves an account of bravery, hardship and determination in the face of almost unimaginable odds.
Tour de spy force
By Katherine Cummings. 09/06/2001 Sydney Morning Herald - Spectrum
Whenever I thought I had reached the limit of my sense of wonder at this book, Heather Rossiter proved me wrong. It is full of detail and quirky thoughts which require a thinking pause or a visit to the nearest encyclopedia, dictionary or gazetteer to verify or understand a recorded fact. It is well researched and documented but, above all, it is a joy to read and very hard to stop reading.
It falls into two parts. Having seen Herbert Dyce Murphy born into a wealthy Melbourne family in 1879, we follow his long apprenticeship which led him to his life's goal as an explorer. His life takes startling turns but they all contribute to the man he became: strong, self-reliant and irrepressible.
By the time he was 16 he was careering around the world in a windjammer. Next, he shipped before the mast in a whaler out of Dundee. He then left the sea to attend Oxford, where his lack of stature and absence of facial hair saw him cast as Alcestis, carrying off the female role well enough to attract the notice of a bigwig in military intelligence, who decided to send him as an agent in drag around pre-World War I Europe to count rolling stock and measure sidings. Who would suspect the charming young lady as she dabbed at watercolours beside the railway tracks?
It seems far-fetched, but there is corroboration and young Murphy did have the advantage of carrying out his masquerade when dresses were voluminous and a veil was usually worn outdoors to protect the complexion. Murphy visited the Continent several times as "Edith". He also seems to have dressed up for his own amusement, and had the chilling experience of encountering his mother in church on one of his ``Edith" outings. He quickly passed her a note: ``I am your daughter, Edith," which Patrick White remembered when he wrote The Twyborn Affair.
Although his mother did not blow the whistle on her ``daughter", she persuaded him to give up spying. He returned to whaling and, arriving soon after a terrible avalanche wiped out virtually everyone in a Norwegian village, he found himself given the care of two surviving girl children, whom he adopted and cared for, in between his adventuring. Community Services would have something to say nowadays if a young unmarried sailor returned home with a couple of pre-pubescent girls in tow.
The second part of Rossiter's book deals with Murphy's transmutation into an Antarctic explorer after he joined the 1911 Australian Antarctic expedition, led by Douglas Mawson. If the first part of the book entertains by its spirit, quirkiness and ebullience, the second part grips with the claw-like hand of Coleridge's Ancient Mariner, as we experience, as near to first-hand as a gifted writer can make it, the horror of a mismanaged expedition to the most unforgiving part of the world.
The expedition was badly planned and disastrously led. The chartered ship could not hold the necessary supplies; attempts to find solid coastline and land the expedition in the face of blizzards and broken anchors consumed time that could ill be spared; wireless aerials blew away and everything seemed to militate against success. Mawson appears to have been a humourless martinet, never allowing the men the rest they needed and creating unnecessary work. On the other side of Antarctica, Robert Scott was creating his own. Only Roald Amundsen seems to have managed well, first in the ship Fram and then in his sensible use of dogs to reach the South Pole and, more to the point, return.
To keep the tension of the reader at a taut stretch for so many pages when little is happening and all is speculation about what might happen when the wind dies or the snow stops is a tour de force. Unlike Scott, Mawson survived to become a live celebrity rather than a dead hero, although two of his team died. Better management might have seen the whole team survive. Mawson was knighted, with not even minor honours for anyone else rich cause for resentment which seems to have been expressed privately, if not publicly.
Murphy remained his competent, likable self throughout the ordeal and returned home without fuss or fanfare. The rest of his life was to be a coda rather than a paean; a life spent with a young wife (the sweetheart he mentally cherished among the blizzards married someone else). He was a wonderful raconteur and made the most of his abundant material when spinning his yarns to children and friends.
A couple of minor carps from a card-carrying pedant: Murphy's tutor at Oxford, Montgomery Bell, was not the original for Sherlock Holmes. That was Joseph Bell, an Edinburgh surgeon. And Samuel Pepys was never a doctor of anything as far as I and my Dictionary of National Biography can tell.
But, that having been said, buy the book, read it, recommend it to friends. I hope it wins something.