by Heather Rossiter. Foreword by John Tidmarsh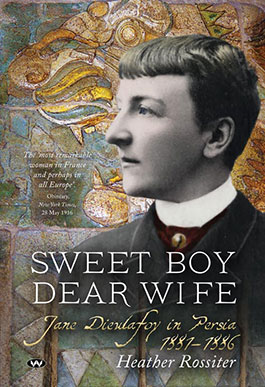 'What! That sweet boy is a woman?' asked the Shah.
'Indeed, your Majesty,' replied Colonel Dieulafoy, 'she is Madame Dieulafoy, my dear wife.'
Captivated by enamelled tiles and bricks used in Islamic buildings, Jane Dieulafoy's search in great cities and small villages, despite illness, religious fanatics and wild tribesmen, is an exciting story of risk and resolve. Blue-eyed Jane dressed as a boy to accompany her husband on digs in Persia, where women were veiled and enclosed. Her adventures led to the unexpected discovery of enamelled brick friezes in the 2500-year-old city of Susa. Displayed at the Louvre Museum, Paris, in 1886, the Lion and Archer friezes created a sensation and remain today among the Louvre's greatest treasures.
Sweet Boy Dear Wife: Jane Dieulafoy in Persia 1881–1886 is based on Jane's diaries. Princes and lowly Persians, nomads, tribal chiefs and functionaries fill the pages, but particularly resonant are the women, both vital tribal women and pathetic creatures locked in anderuns (harems). Their subjugation saddened Jane, an early feminist, who believed passionately that women should be free to live dignified independent lives.
Heather Rossiter studied Eastern and Oriental Art in Oxford and Islamic monuments at UCLA, later travelling extensively in North Africa, the Middle East and Central Asia. In 2001 at Susa, Iran, she was captivated by Jane Dieulafoy's story.
Sweet Boy Dear Wife
By: Helen Eddy 25/09/2015 - ReadPlus Review Blog
What an amazing woman! Jane Dieulafoy cut her hair short and dressed as a man, and set off with her husband Marcel to explore the mysterious lands of Persia, riding a horse and carrying a shotgun for protection against bandits and other dangers, including lions! She learnt and spoke Farsi fluently, outwitted canniving despots, suffered numerous attacks of malaria and fever, endured thirst, hunger, fleas and headlice, and survived to explore the ruins of ancient times, uncovering beautiful artefacts beneath rubble and dirt. Archaeology and photography were among her many talents, as well as wits and determination, for there were times when Marcel, seriously ill, had to depend on her to protect and guide them to safe refuge. Could such a woman have really existed in the late 1880s? Unbelievable as it might seem, this is not fiction. Author Heather Rossiter draws on meticulous research to piece together the story of their adventures, drawing on Jane's own diaries and the writings of others from the period. The result is a thorough documentation of Jane's life culminating with the award of Chevalier de la Legion d'honneur by the President of the French Republic. The Lion and Archer friezes retrieved from Persia and displayed in the Louvre Museum are the treasures that she brought back.
Rossiter includes many of Jane's black and white photographs of men and women she encountered, from palaces, from harems and lowly villages. These are supplemented by the author's own colour photographs of the temples and ruins the couple explored. The story of Jane and Marcel is supplemented by rich historical detail of the times of Darius, Alexander the Great, Xerxes and other rulers in Ancient Persia, and creators of the marvels that Jane and Marcel documented for their audience at home in France.
The book is an interesting combination of biography, history, and travel. So much so, I've now added Iran to my travel wish list.
Sweet Boy Dear Wife: Jane Dieulafoy in Persia 1881–1886
Review by Ben Churcher October 2015. The Near Eastern Archaeology Foundation Bulletin #58
The author, Heather Rossiter, is a long-time NEAF member who has recently published Sweet Boy Dear Wife with Wakefield Press (ISBN: 978 1 74305 378 2). Heather is an accomplished academic, traveller and scientist who can justifiably add 'author' to her long list of life achievements. Heather's previous books have chronicled Australian efforts to explore the wilderness of Antarctica: Mawson's Forgotten Men: The 1911-1913 Antarctic Diary of Charles Turnbull Harrisson and Lady Spy, Gentleman Explorer: The double life of Herbert Dyce Murphy.
In her latest book, Heather leaves the freezing wastes of Antarctica and moves instead to the burning deserts of Iran; again using as her guide a fascinating individual: in this case Jane Dieulafoy, the wife and travelling companion of Marcel-Auguste Dieulafoy. Showing true grit, Jane, in order to avoid unwanted attention in nineteenth century Persia, dressed as a man throughout their journey.
'What! That sweet boy is a woman?' asked the Shah.
'Indeed, your Majesty,' replied Colonel Dieulafoy, 'she is Madame Dieulafoy, my dear wife.'
Arriving in Tehran via Athens and Constantinople, the Dieulafoys embarked on an expedition to the ancient site of Susa located near the Persian Gulf in one of the hottest provinces of Iran. This fabled city, in turn Elamite, Persian and Hellenistic, was a major administrative centre controlling access from the Mesopotamian lowlands to the Iranian plateau. At Susa, Marcel and Jane explored the remains of the palace first uncovered by William Loftus some thirty years previously. During this visit, Jane took numerous photographs and made copious notes.
This brief journey to Susa made a lasting impression on the Dieulafoys. Returning to France, they started to organise the publication of the first volume of Marcel's magnum opus, L'Art antique de la Perse, the first volume of which appeared in 1884. That year Marcel obtained a grant from the newly founded Department of Antiquities at the Louvre and from the Ministère de l'Instruction publique as well as logistical support from the French army and navy in order to fund further study.
The Dieulafoys returned to Iran in 1884, accompanied by a young engineer, Charles Babin and by the naturalist Frédéric Houssay. The official physician to the Qajar court, Tholozan, who had treated Marcel when he had fallen ill during their first visit, intervened on the Dieulafoys' behalf with the Persian authorities to obtain permission to explore Susa further. Their major condition to do so was that the Tomb of Daniel, still standing not far from ancient Susa in the nearby town of Shush, was not be disturbed. Agreement was also reached which allowed any discoveries made at the site, except for those of precious metals, to be split equally between the French and Persian governments. Further work at Susa took place between the winters of 1885 and 1886.
The excavations took place under arduous conditions. The team lived in tents and were exposed to the harshness of the elements. There was little government control in the region, meaning that roving bands of thieves operated quite freely. Nonetheless, Dieulafoy's expedition succeeded in discovering numerous objects, most of which ended up in the Louvre Museum since the Persian government, uninterested in the largely brick and stone mortar fragments that were unearthed, waived its right to share in the discoveries. Today at the Louvre when you see the Frieze of Lions, a decorative glazed-brick frieze from the first court of Darius I's palace at Susa, you have the Dieulafoys to thank.
These 'museum pieces', however, were of secondary importance to Marcel, whose primary interest remained the architecture of the site. He succeeded in partially excavating the great central columned hall (the Apadana), originally identified by Loftus as having been originally built by Darius and then restored by Artaxerxes II. Today, this structure is one of the few intelligible remains at the site of Susa which is otherwise a vast undulating ruin field with few built structures interrupting the hills and gullies that one knows contains the buried remains of the city.
Jane Dieulafoy documented the pair's explorations in photographs, illustrations, and writing. She took daily notes during her travels, which were later published in two volumes. It is from these volumes that Heather Rossiter draws upon to weave her eminently readable account. From the everyday world of Persians living under the crumbling Qajar Kingdom to the excitement of archaeological and architectural discoveries, this book vividly brings the world of late nineteenth century Iran into focus. Never straying too far from Jane's writings, the book avoids long digressions yet gives the reader enough contextual information on the society and religion of the day so that reader not only learns about Marcel and Jane, but also the wider world of Persia as it staggered into the twentieth century which was to witness such incredible changes for the country.
For NEAF members who have been to Iran, or are planning to, this book is highly recommended. While the world today has changed somewhat, the sights and smells that assailed Jane in the markets of Isfahan and Shiraz are still there: giving the modern reader some empathy for the world Jane travelled through looking to most bystanders as a 'Sweet Boy'.